If you clicked into this article, chances are, you've been hit by the Crash Landing On You (CLOY) fever on Netflix – because who can resist an overly-romanticized love story once in awhile?  
Crash Landing on You is without a doubt the most talked-about Korean drama series on Netflix in recent months.
As a leather crafter what drew me into the show other than my friends constantly suggesting me to watch the show is a lovely customer who had commissioned to make the Ado backpack as seen on the main character.
Spoiler alert: It wasn't the most romantic moment in the TV series but she certainly dressed with class here. Son Ye-jin wore a belted trench coat and  carried a Taurillon Clemence Kelly Ado backpack from HERMES. 
Her stylish backpack is handcrafted of calfskin leather with a cross over flap, silver palladium plated hardware turn lock and strap anchors, with long adjustable leather shoulder straps. The top opens to a compact leather interior with a patch pocket.
Who doesn't know the Kelly? The unique backpack iteration is uncommon so you might have to look on resale sites. Or custom yours here with us. 
When a customer reached out with a picture of this scene saying she saw this beautiful handbag in a TV show that she would like the exact same one. 
I immediately recognized it from the recent Korean drama sensation "Crash landing on You" from when I watched one of those Youtube TV compilations videos.
She highly recommended the TV show to me and it's only fitting that I turn Netflix on while making her this beautiful red backpack from the show. 
Even if the drama ended, "Crash Landing on You" stays popular and many are still talking about it. This is why SeRi's luxurious handbags collection got the spotlight on an online community and made netizens jaw drop!
In the drama, Son YeJin was seen with countless of handbags from luxurious brands including VERSACE, GUCCI, VALENTINO, LONGCHAMP, FENDI, CELINE, CHANEL, DIOR, HERMES, and much more!
So I'm eager to try new bags I saw from the show. Comment down below on which style I should get started on next. Get your vote in:
Triomphe Shoulder Bag, $4,350+, from Celine
At the end of episode 11 where Ye-jin was leaving the office before she was chased by Cho Cheol Gang, she was dressed in a grey trench and carrying a sleek Celine bag.
Hermes herbag Messenger $2850+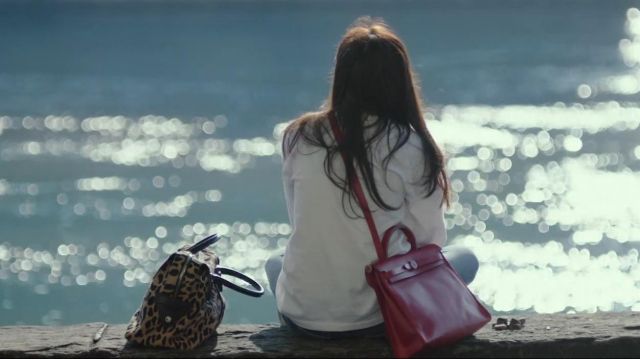 In the flashback scene in episode 11 that detailed Ye-jin and Hyun Bin's encounter in Switzerland, she was carrying another red Hermès bag.
Lady Dior Handbag $5300+